R.E & British Values
At Garden Suburb Junior School, we base our teaching and learning style in R.E. on the key principle that good teaching in R.E. provides opportunities for our pupils to learn about and from religious traditions and to reflect on what the religious ideas and concepts mean to them. Our teaching enables pupils to extend their own sense of values and promotes their spiritual growth and development. We use their experiences of religious festivals such as Easter, Diwali, Hanukkah and Eid to develop their religious thinking with a focus on learning from religion.
News & events
In January 2023, we celebrated World Religion Day by having a whole school poster competition, where the children designed posters researching a religion they are interested in or their own religion. We had some fantastic entries!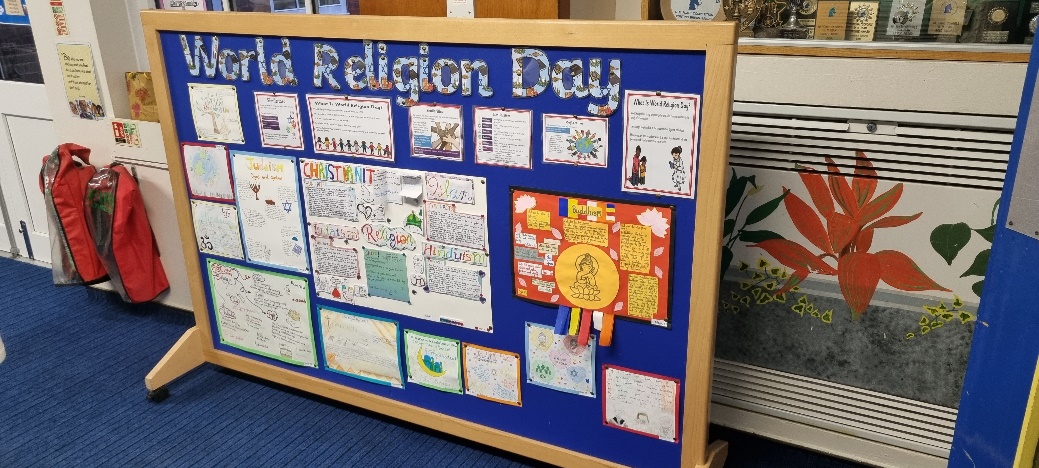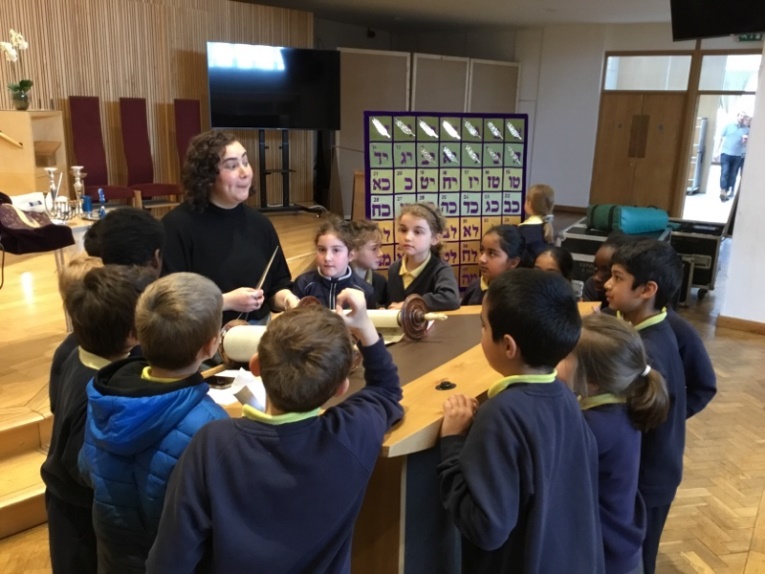 In June 2022, Year 3 visited Alyth Synagogue and also Hampstead Garden Suburb Church as part of their "Religion in the community" unit. The children asked lots of questions to the rabbi and the vicar and got to explore the places of worship.
Further information
BBC Bite size: Religious Education
KS2 https://www.bbc.co.uk/bitesize/subjects/z7hs34j
KS1 https://www.bbc.co.uk/bitesize/subjects/zxnygk7/year/z7s22sg
Chanukah
Video:
http://www.bbc.co.uk/programmes/p02n2kp0
Activities website:
https://www.activityvillage.co.uk/hanukkah-colouring-pages
Advent and Christmas
Video:
http://www.bbc.co.uk/programmes/p02mwyn6
Activities website:
https://www.activityvillage.co.uk/christmas
British Values
Take a virtual tour around the Houses of Parliament
https://learning.parliament.uk/en/resources/360-tour/
https://www.parliament.uk/visiting/virtualtour/
Information about British Values and resources:
https://educateagainsthate.com/resources/barking-dagenham-primary-resources-british-values-games/
Take a guided tour around 8 of London's principal religious buildings in full 360° detail. Click the name of the building to access the video.
The Buddhapadipa Temple is a Buddhist centre that was officially inaugurated by their Majesties, the King and Queen of Thailand on the 1 August 1966. It is introduced by Phramaha Bhatsakorn Piyobhaso.
Hidden in a courtyard away from the main streets, London's oldest surviving synagogue was built in 1701. It is introduced by the manager, Maurice Bitton.
One of London's most prominent mosques, it opened its present building on the Whitechapel Road in 1985. It is introduced by the media and communications officer, Salman Farsi.
The largest Sikh gurdwara in London, in Southall, was constructed between 1997 and 2003. It is introduced by Paramjit Singh Virdi.
The Redeemed Christian Church of God's complex near Brent Cross shopping centre in north London was founded in 1994 and has grown rapidly. It is introduced by Ayobami Olunloyo.
A distinctive presence in suburban north-west London, the temple was built between 1992 and 1995 with materials imported from India. It is introduced here by Yogendra Narendra Shah.
The principal Church of England building in London was designed by Sir Christopher Wren and built between 1675 and 1708. It is introduced by the Dean, Dr David Ison.
The principal Roman Catholic Church in London was designed by John Francis Bentley and opened in 1903. It is introduced by Anne-Marie Micallef.