Science Week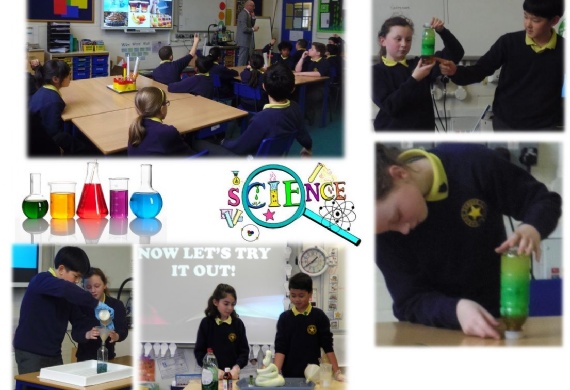 Children engaged in a variety of fun and interesting science activities this week.
As well as trying out a range of science experiments with Year 6 in the Science Carousel, each year group did their own experiment linked to their topic and also completed some scientific writing.
Year 3 explored the different plants they knew and learnt the scientific vocabulary for parts of a plant. They then wrote scientific reports about the life cycle of a sunflower.
Year 4 made their own circuits using a variety of components and tested and discussed how switches work. They also wrote persuasive texts about healthy eating.
Year 5 completed 'Willy Wonka' experiments with gummy bears, skittles and water. They also wrote scientific reports on the features of animals.
Year 6 completed a muddy water challenge, independently deciding how they would filter it and having a go using the apparatus they had chosen. They then wrote instructions for the process in a variety of styles.
Children attended two House Assemblies, led by each of their House Captains, and were wowed by science experiments all about mysterious mixtures.
Each year group was also entertained by talks delivered by parents who were specialists in their field.
The children were well-behaved and sensible throughout the week, asking interesting questions and using their powers of observation and reasoning to understand new scientific concepts.