Year 5 Intra-School Sports Tournament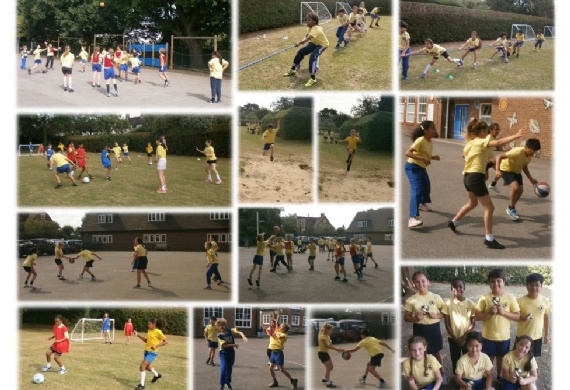 Every Year 5 child has taken part in an intra-school sports tournament in association with the school games.
The children were split into groups of six and seven and competed across six different sports: netball, cricket, football, basketball, tug-of-war and long-jump.
Each team was named after a different Year 5 topic: Rockets, Amazons, Tudors, Supernovas, Impressionists, Kandisnkys, Warhols, Vikings, Stars, Saxons, Planets and Brazilians. This was a chance for every child to take part in competitive sport. Meanwhile, twelve of the children were afforded the opportunity to lead a team and hone their leadership skills.
Krystian, a pupil in 5G, said: 'It was an amazing event and loads of fun.' Joshua, also in 5G and the team captain for Planets, told us: 'The effort from every team member was amazing, it was great to see good gamesmanship from everyone that took part.'
The winning team was Amazons.