Band and choir performance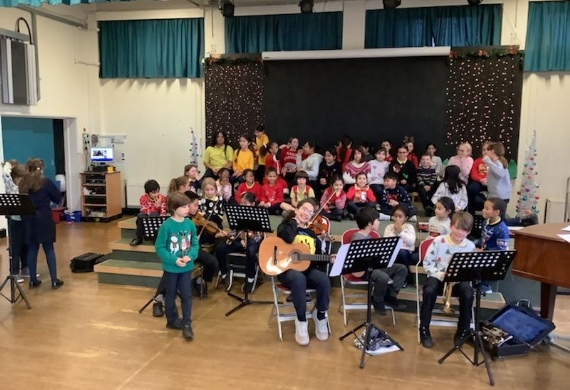 The school band and choir put on a wonderful show on Monday afternoon for an audience of family and friends. The Choir sang a mixture of Disney, popular and festive songs including "Frosty the Snowman" and "I Have a Dream" by ABBA.
The band accompanied two of the songs playing a mixture of percussion, guitars violin, trumpet and clarinet. The band and choir prepared for this concert during lunchtimes throughout the term.
The band is a free lunchtime club (Wednesdays 1230) for children who are learning an instrument can read music and play independently. The choir is another free lunchtime club (Tuesdays for years 3 and 4, Thursdays for years 5 and 6). We are always looking for more band and choir members so if your child would like to join, please ask them to speak to Mr Silverman (Music Teacher)