Per Ardua Ad Astra at the R.A.F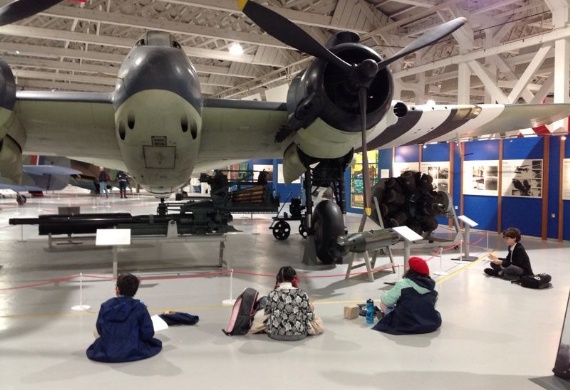 Today, year 6 visited the R.A.F Museum in Hendon. We participated in some fun activities and learnt many new things. We took part in a Sky Writing workshop, where we learnt about the many behind the scene jobs of the Royal Air Force and spent time sketching the many planes in different hangars.
Some stand out aircrafts included the Sea King, which is a search and rescue helicopter and the F-35, a plane designed to fly at speeds of over 1000mph. The most standout of them all was the Spitfire, which some of us actually got to sit in!
"I really enjoyed looking at the planes and searing for different markers on them such as animals. I even found a rabbit / bee-like thing on one of the planes. I really want to go again to try and find more." - Ocscar, 6G
"I particularly liked Hangar 1 because there were interesting planes and many interactive stations where you could learn more about what they do at the Royal Air Force." - Dalia, 6J
"I particularly enjoyed Hangar 4, where I learnt about the Avro Lancaster." - Samar, 6S
"I think it was a great experience and I definitely learnt a lot, like the fact there are 35000 jobs in the R.A.F." - Elizabeth, 6G
"I enjoyed learning about the new roles of people in the R.A.F that I didn't know much about before." - Manami, 6S
"It was interesting to see inside several on the planes to see how they operated. I was surprised to see how small the cockpits were." - Al-Hayderali, 6J
Article written by Jojo and Elan in 6J.