Year 6 Intra School Tournament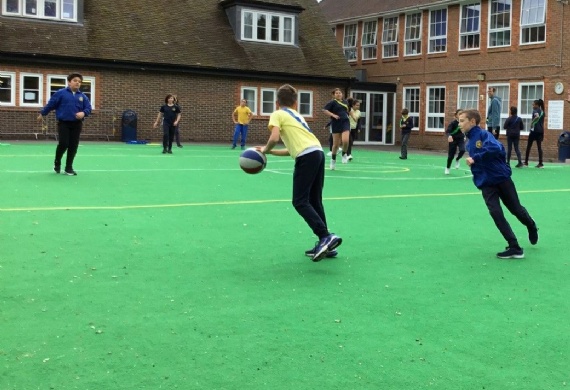 Year 6 have taken part in an in-house sports tournament.
The three Year 6 classes were split into their house teams: Melvin, Coates, Barnett and Unwin in order to compete in an intra-school tournament. The teams rotated around six different activities that were reflective on their PE provision this year: tennis, football, netball, basketball, long jump and rounders.
The activities were competitive but friendly with Matteo in 6J explaining: 'It wasn't about the points it was about having fun!'
Teams picked up points as they moved through the activities with Melvin being crowned the eventual winners. Well done to all of the Year 6 children who took part and thank you to the staff who helped the event run smoothy.
It was very fun doing all the activities and my favourite was the long jump! Olivia 6J
Even though my team (Unwin B) lost all our games (!) it didn't matter because it was still fun seeing them win and supporting each other" Inas 6J
We did win most of our games but we did lose one but what matters is that we were cheering our team and we did the best and we are happy with our results Hamudi 6J
Everyone took part and we all had fun and cheered on people not even on our teams Hailey 6J
Everybody was doing their best and I was really happy about that! Roxana 6J
It was nice that when if you made a mistake your team didn't shout at you India 6J
It wasn't about the points it was about having fun ! Matteo 6J
I had lots of fun meeting children from other year 6 classes and it was really fun playing with them Saha 6J
Today was a really fun day and I thank Mr McGwin and Year 6 teachers for organizing this fun day ! Musadiq
I liked the fact that people weren't frustrated by the fact whether they lost or won Amir 6J​