Henry VIII visits GSJS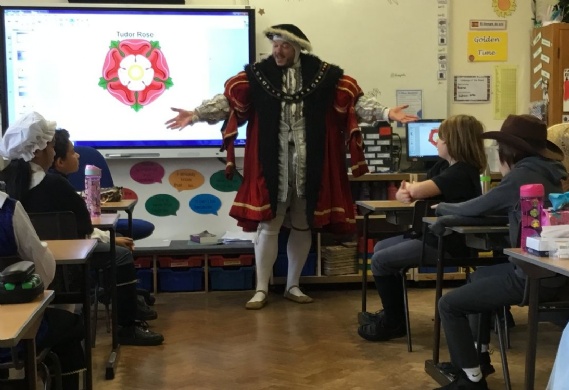 Today, Year 5 dressed up in costume and had three very special guests from Hatfield House visit them to discuss life in the Tudor times.
Catherine Parr spoke to the children about life at court, how to greet the king (Vivat rex) and taught us the oldest known song in England - The Cuckoo song - which you can learn more about here: https://www.classicfm.com/discover-music/periods-genres/early-music/oldest-english-song-sumer-is-icumen-in/
Erasmus, the king's armourer, spoke about battle strategies, Tudor punishments and England's most powerful weapon for over 250 years - the longbow. We looked at different arrowheads and discussed the importance of the Battle of Bosworth, particularly the union of the House of York and Lancaster to make the Tudor Rose.
Last, but by no means least, the children were able to meet King Henry VIII, to whom they all swore allegiance. He taught them the importance of hierarchy in the Tudor times and the children revelled in their roles as noblemen, gentry, yeomen and peasants.
We ended the day by analysing and then designing our own coat of arms for our house names. The children thoroughly enjoyed themselves and learnt a lot from the experience.